A heart-based life
is the key to INTEGRAL
success
A

heart-based life is the
key to

integral

success
Add

more days

to your week
Do you struggle with not having enough time? Apply these two keys that can make it feel like your week is longer.

Add more days to your week
A micro-course about Time by Advaitananda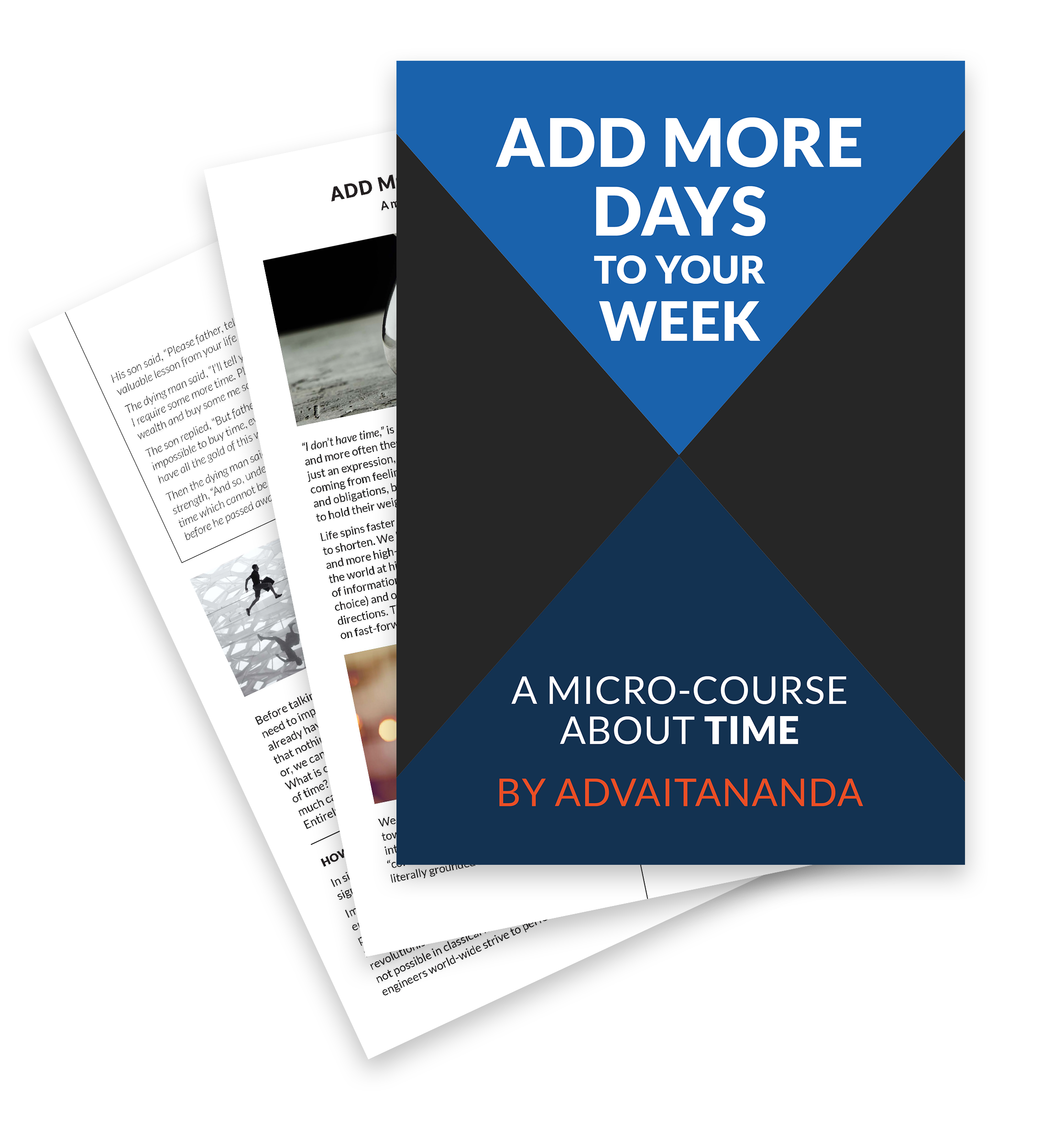 Time – apparently a familiar concept, yet mysterious and dynamic in its nature, it is embedded in every aspect of our life. Sometimes Time seems to be our friend, sometimes our enemy, it is both expensive and free!
We all need to learn how to make an alliance with this fascinating, and terrible, energy.
Yes, Time is energy!
In this mini-course you will find two fundamental keys to help you gradually rediscover Time as one of the most bountiful resources for an abundant life.
Ava has been a teacher of mine for the past decade. Working with him has brought much insight which has been a great support in my personal life as well as in my creative work. In applying the teachings and practices, I have been able to connect more profoundly with myself, to transform on many deeper levels, which has beneficially impacted my music enormously.

Are you looking to get

more out of life?
An educated scientist, advanced spiritual practitioner and teacher of Yoga, Tantra and Meditation, Advaitananda's story is intricate and nuanced. Through a lifetime of intense academic study, daily spiritual practice and self-enquiry, Advaitananda discovered how spiritual systems actually offer unexpected yet ingenious, complete and sustainable solutions to the common problems we face today – solutions that he wishes to share through his projects and writings.
Welcome to our website, a space that is intended to serve as a garden where seeds of genuine spiritual knowledge are sown and cultivated, so that they may sprout in the hearts of all curious and intuitive guests. Forever deeply passionate about his research, Ava also shares some gems of insight here that await discovery by all.
Success and Happiness: Can We Have Them Both? – Part 1
Success has become one of the most talked about subjects these days because we believe that it brings happiness. But does it? We have assigned a lot of importance to success, yet reality shows that, in fact, success in itself doesn't hold much real value for us. Studies regarding our physiology show that it has very little impact on our lives when compared with that of happiness.
Intimacy and Career: Do these two exclude each other? – PART 1
Intimacy and career in modern families … one of the two, but often both, are sacrificed as time passes, without us really noticing. Is there a way to pay escape of this paradigm?
continuous transformation podcast
Being alive is, in itself, a process of continuous transformation. In this podcast, Advaitananda gives a unique spin on our understanding of self and the world around us, aiming to assist in the discovery of the highest perspectives that can transform any life situation into an opportunity for growth.
Topics such as leadership, time management, relationships, health, eroticism, mental focus and vigilant citizenship are discussed with guests who seek to initiate a clearer vision on these pertinent topics, in this challenging and surprising world.
Advaitananda's extensive experience and personal practice has led to his counselling thousands of people on a variety of matters, such as those mentioned above, and many more.
In this podcast, Advaitananda intends to provide a much-needed bridge between the wisdom of the past, the reality of the present, and the hope of the future.
Institute for Quantum Transformation
The Institute exists to empower those who are ready to go beyond the ordinary limits of the consciousness and tap into the superior wisdom of the heart, by offering systematic, proven techniques for utilising universal laws for the benefit of all, constantly shifting paradigms and upgrading perspectives in all areas of life.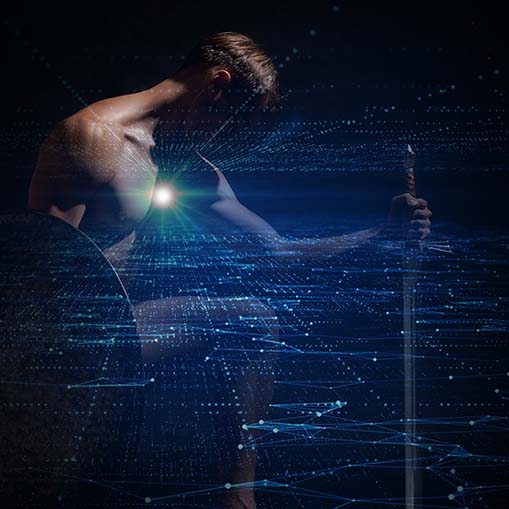 Being a man, and finding our purpose in the world as men today, proves to be more complex than most are ready to acknowledge. Fortunately, the core principles of true masculinity are immortal and unchanging, and await discovery by anyone who seeks them.
Human consciousness is endowed with amazing tools, but we need to learn how to use them so that they will not disrupt our inner peace or distort our perception of reality. Methods of improving the power of concentration, as the key practices in this regard, cannot be overemphasised.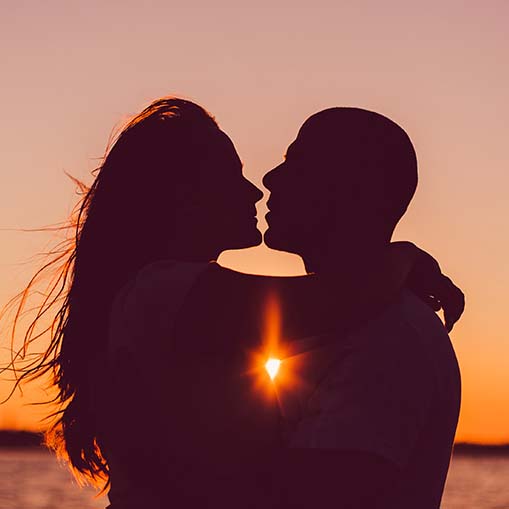 Intensive Esoteric
Tantra Yoga Course
The Esoteric Tantra Yoga Course invites all who dare on a fascinating journey of spiritual evolution and exploration, delving deep into ancient esoteric knowledge that addresses today's real world experience, and covers life-encompassing subjects.
Advanced Education –
Teachers' trainings
Benjamin Whichcote aptly said, "There is no better way to learn than to teach." For many dedicated and passionate practitioners, choosing to guide and teach others reveals itself to be a natural step that also helps deepen their own practice.
The programme with Advaitananda was intense; to me it was a game changer. You get in a mode of peacefulness, calm and quietness. I never expected quietness to be that attractive. And once I started living more in the moment, I was able to focus on tasks at hand which released a lot of resources. It got me balanced, and that made a great impact on the art I'm making.
Musician & Professional Speaker, Switzerland
I've done a lot of courses, I lead courses, and it takes a lot to surprise me and to really find tremendous value, so it's a great joy when I do find that. In the Eye of the Storm, I was continually surprised. One of the things that was really valuable for me was I've had this long problem of 15 years, something that I've put my head in the sand about, and with the Eye of the Storm, I actually started to look at it, take responsibility, and take actions, and for me that was huge value.
Breath Coach & Co-founder of Quantum Questions, United Kingdom
I used to be a "busy fool", just busy being busy, and I'd say I probably now do 10% of what I used to do because my level of self-awareness inside of business is just going up and up with the help of Advaitananda and the Quantum Transformation programme. It has given me back a massive amount of time.
Entrepreneur, United Kingdom